APRS (Automatic Position Reporting System)
APRS is a system developed by Bob Bruninga, WB4APR, which uses amateur radio to transmit position reports, weather reports, and messages between users. APRS was designed to support rapid, reliable exchange of information for local, tactical real-time information, events or nets. The concept, which dates back to the mid 1980's, is that all relevant information is transmitted immediately to everyone in the net and every station captures that information for consistent and standard display to all participants.
In the North Texas area we use this extensively in the support of public service events. In many cases we may be tracking over 20 separate vehicles that are used in the event. The position of these vehicles is plotted on a computer generated map real time so that the event organizers can have situational awareness of the status of the event. During many of these events we also use APRS to transmit short status messages between locations to reduce the amount of voice traffic on the controlled nets.
In general APRS system can be constructed very simply and at a low cost. For most applications all you need is a low cost 2 meter radio. Mobile or HT can be used. A GPS receiver and a terminal node controller (TNC) or dedicated tracker interface such as a OpenTracker or TinyTracker. Below are links that you can see some examples of my primary vehicle's (W5ADC-14) location.
jfindu (Enter W5ADC-14 as call sign)
W5ADC-14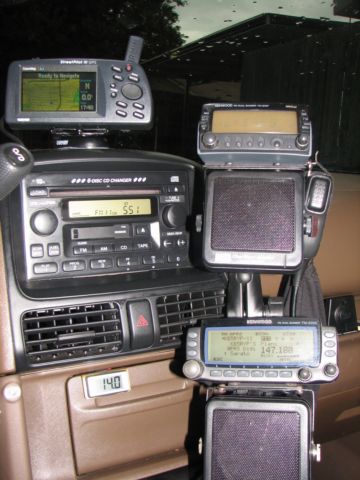 Well this is my car. In addition to the daily commute, it has been used on many bike rallies as a rover, tail, SAG vehicle and communications lead. Below is the list of equipment currently installed. On some events, I will also install a laptop computer running UI-View to keep track of the other suitably equipped vehicles.
Kenwood TM-D700A Dual Band Radio
Kenwood TM-G707
Garmin Street Pilot III
Two Dual Band Antennas
All power distribution with via Rigrunners and PowerPole connectors
W5ADC-3, W5ADC-4, W5ADC-5
Since the ARPS community in the North Texas area supports many public service events, a number of hams have produced self contained trackers. These trackers generally have the ability to be easily installed in another vehicle without reliance on the vehicle for power or antenna connections. Below are some details on my version of this type of tracker.
By using the OpenTracker 1m, this tracker is capable of stand alone operation for mover 36 hours with normal beaconing rates. Sine the OpenTracker turns the radio off, when not actually in use, the net amp hour drain on the system is rather low.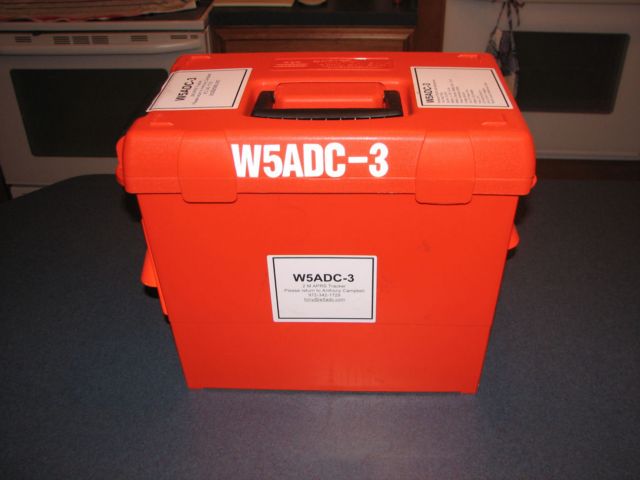 List of Major Components
Kenwood TM-D261 2m Transceiver
Opentracker 1m
Deluo Universal GPS Receiver
12 vdc 18 AH Battery
Battery Charger, Battery Doc 1.25 amp
Power Distribution Block
Voltage Monitor
Supporting Accessories

Power Extension Cord, 10 ft
Car DC Power Cord
Battery Clip Adapter
Spare Fuses
Quick Reference Guide
Construction
The notes below will not give you the exact details of the construction, but will hopefully provide you with some good ideas of your own. I do have three identical units and they have worked great for many events.